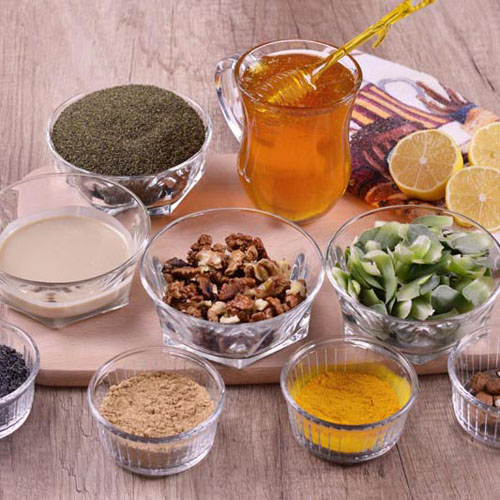 Dominique is an award-winning naturopath and herbalist who has a love for all things alchemical. Her work is practical and based around empowering you to have a healthier and happier day. She holds a Masters in Public Health Promotion, is the founder of Medicineroom Naturopathic Herbal Dispensary and the author of two best-selling wellness books.
Web Link/s
Appearances
Coconut Mushroom Soup to Sip
Dom shares healthy mushroom recipes for light and nourishing immune-boosting evening meals, including a super simple coconut and mushroom soup.
Sat, May 04
5:30PM–7:00PM
Mortar & Pestle
Herbal Teas for Wintertime Wellness
Dominique shares with you some great recipes for making wintertime health drinks. Based on herbal teas, these drinks will boost your immunity, help relieve coughs, colds and flus for the whole family - and they taste delicious.
Sun, May 05
8:00AM–8:45AM
Mortar & Pestle
Hot Herbal Honey Nightwarmers
Dominique explains how making hot honey-based evening drinks will help you rest, relax and stay healthy in the winter months. Sip some honey warmers and enjoy the cooler evenings.
Fri, May 03
6:00PM–6:45PM
Sharmy's Kitchen
How To Be Your Own Best Doctor
Dominique is ready to share some awesome information on how to be your own doctor this winter. Prevent illness and boost your body's immunity with simple recipes that you can use as medicine at home. You can be healthier than ever with these simple and practical home strategies.
Sat, May 04
12:45PM–1:35PM
Lilly Pilly
What's In Your Morning Cuppa?
Join Dominique in this alternative morning beverage class. How can you improve your health, have more daily focus, boost your energy and feel sustained with wellness simply by changing up your morning cuppa? Think nourishing herbals, tonics that taste delicious and enjoying a healthy start to your day!
Sat, May 04
8:00AM–8:45AM
Mortar & Pestle